This week's challenge for
Project Sewn
had me almost giddy. The project for this challenge, Going Global, was so easy to choose. If there's ever a time when I need to choose something international it will always be Italy. Always. I served there as a missionary for a year and a half. In that time I very quickly came to love the people, the culture, the language, the food, everything.
Do I look statuesque?
What I was most surprised to find a love for (other than tomatoes, which I previously despised) was art. I've never been as much of an art buff as I wish I were, but the sculptures in particular were nothing short of inspiring. And plentiful. My favorite sculptures are those that show flowing, draping folds of fabric. I am amazed that something can start as a piece of stone and be formed into something that conveys delicacy and softness. I see the creation parallels with sewing, so maybe that's why I love them both so much. But I digress...as usual.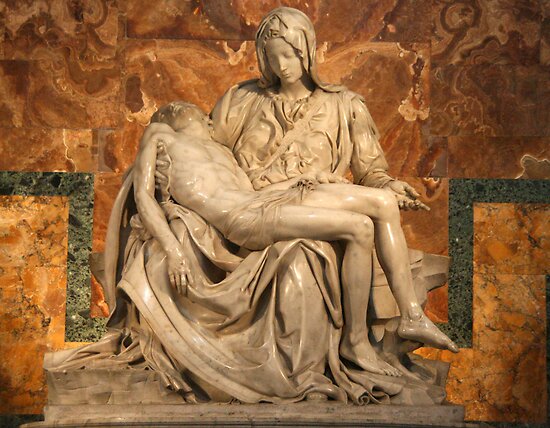 I could look at this for hours, especially because it would mean I'm back in Rome.
I chose to make a top and pants that I would
love
to see on a sculpture. The pattern for the top is
Burda 7164
and I ended up with two different bottoms. The shorts are
Burda 7165
and the pants are
Vogue 8859
. A quick rundown on the shorts is that the pattern is bad. Bad, bad, bad, bad, BAD! The body measurements as compared to the finished garment measurements are ridiculously bad. For example, I added FOUR INCHES to EACH LEG to achieve the fit you see.
Side seams let out all the way still left hip divets. And what's the point of the free-flapping waistband? Also, my fingernails aren't as long as the nail wraps make them look, but the shorts didn't cause that problem.
Rather than continuing to whine I will just say that this pattern is dead to me. Let us never speak of it again. The pants, on the other hand, were fast and easy to sew up. I am extremely short-waisted, so keeping the original waist line on a pair of pants automatically makes them mid-belly maternity pants for me. I also thought the detail at the knee was fun.
Knee and inset details
Now for the top. I love it. A lot. Sewing it up was quick and pretty straight forward. I ignored the instructions about attaching the inset because I preferred to have an enclosed seam. This top is so different from all the other maternity tops and I really like that. The folds and drape made by gathering on to the original inset make the soft lines I would so love to see on a sculpture. Instead I get to see it on me and that also makes me happy.
17 week belly shot
The fabric for the top is a
tango red jet set from JoAnn
(looks like it's on sale today!) that I bought who knows how long ago with plans for a different, though equally out-of-the-ordinary top. Whenever I finish a project with jet set I wonder why I bother to sew with any other fabric. It's smooth and cool for the summer. The fabric is thin but opaque. It does tend to run so it's a knit that MUST have seam finishes. But it's so cool and comfy. I deviated from the pattern by shortening the tunic length about three inches and leaving the inset plain. The pattern calls for a contrast fabric or for batting and quilting lines on the inset piece. I don't relish the idea of having a quilt over the top of my little internal heater during a summer pregnancy, so I just kept it plain with a single row of edgestitching to keep the seam allowances in place.
How about now? Am I statuesque enough? :)
I had my dad take a few pictures for me so I could try to pose like a statue. I may look like I'm in pain but really I'm just wondering what's going to happen to the burned-out little raisins I used to call my eyeballs. It was extremely bright and windy. I probably should have stood in the shade so the shadows created by the folds from the gathering could really show up. Lastly, here's a photographic throwback to when I was actually in Italy. This was ten and a half years ago during my last week in Rome as I was thoroughly enjoying a gelato, most likely stracciatella.
This picture shows two Italians, two Americans, and one Swiss. Can you guess who's who?
O Italia, come mi manchi! Ci rivedremo un giorno.