This is what it looks like when you take pictures of the project you just finished at 10:30 pm...after a full day of your toddler son refusing to be anywhere but in your arms or on your lap. It's a good thing Q-ball is so cute. But I was talking about the jacket.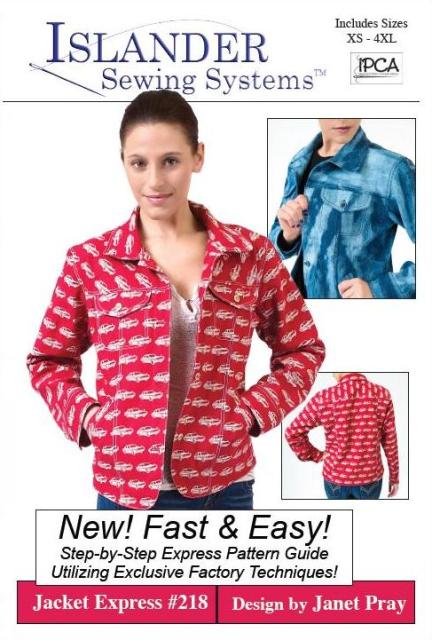 via sewing.patternreview.com
The pattern is
Jacket Express #218
by Islander Sewing Systems. It came with my purchase of the Craftsy class Sew Better, Sew Faster. I can be a bit of a snob about what I think an online class can teach me about sewing but I was intrigued by the promise that the entire jacket could be sewn quickly and without any pins. As the class was on sale for $20, I went for it. The class includes the jacket, which usually costs $22.95, so I felt like I was getting a good deal.
It was late when we took this picture, thus the entire lack of styling.
I changed the pattern by squaring off everything but the pockets. I was interested to try the crimping technique to give the round shape to the pockets so I kept that. My fabric is a cotton blend of some sort I picked up at Hancock specifically to make the jacket. The pattern is different from any others that I've used before. The instructions are in a full color booklet and the order of construction is very different for most commercial patterns. It's organized to be as efficient as possible. That's great if the fit is already accurate. Mine is a bit big in the back shoulders but not enough for me to pick it out and redo it. I couldn't have known that until I was far into the sewing process.
This is as sassy as I get at the end of the day.
Construction was fairly easy, just time consuming because of all the pieces and all the topstitching. I really did get most of the jacket sewn without using pins. Even the sleeves were pin-less and that's something I'd never done before. There are a few techniques that get a bit tricky to explain in writing and I had to figure those out for myself. I have not yet watched the whole video on Craftsy because I needed to save time. I'm sure she's got other tips for the tricky parts which are not included in the written pattern.
Welt pockets. I haven't done real welts in years.
I'll probably make this pattern up in the future with the necessary fitting modifications. For now this is a great little number while Mother Nature decides whether or not it should be spring around here. She's a fickle mistress in March and April. It's not uncommon to switch between heat and A/C in the car several times a day during these months.
What? Oh, you're taking the picture now?
I think I really need to watch the class video and see what other tips are there. I wasn't a fan of trying to topstitch the facing and upper pockets without being able to see them, particularly without the aid of pins. So I didn't. Hopefully there's more info on that with the video. I'll actually take the time to watch it before I make the next one.
Linking up: