I kind of spaced doing yesterday's Sacred Sunday. Oops. I missed a day of my challenge, but that's okay. I'll just tack an extra day onto the end and call it good. But I will also give a brief Sacred Sunday. There were SO many good talks at General Conference. If I had to pick a favorite it would be Elder Jeffrey R. Holland's talk (below), followed closely by the one given by
Elaine S. Dalton
.
So on to Move-It Monday. I am on the threshold of my next mini goal for weight loss. I decided that for every ten pounds down I go I get to make myself new clothes. It's been great watching the pattern sizes go down. The weight loss stalled after I let myself indulge at Halloween last year, but I feel like I'm
finally
getting back on track. The next set of patterns I can sew is less than a pound away from what my scale said last time I weighed myself. Here are my rewards patterns for going below 180:
The shirt on the left is one I made a few years back and modified to be a maternity pattern. Now I want it in non-maternity and in purple. The original I call my "awesomely pink shirt". It's the color of Pepto-Bismol.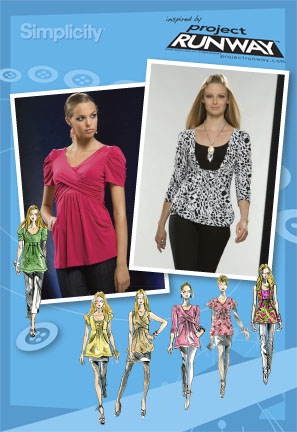 via patternreview.com
Simplicity website patterns show up itty bitty.
I want to try my hand at pants again. They rarely work out for me but I've got a few new tricks up my sleeve to make pants fit my weird body. These will be made out of a lavender stretch denim with silver underweave. I've had the fabric for YEARS waiting for me to make another project that's just not going to happen. But there's enough yardage to make the pants. If skinny jeans were an option for me I'd probably make skinny jeans out of it. But I'm not going to.

This pattern is so old is doesn't even show up in the out-of-print patterns and I had to find a picture on ebay.
I don't have a fabric plan for this skirt. I'm thinking about an embroidered denim that I have leftover from another project. I'm not sold on the idea though. Maybe I'll raid my mom's stash or (gasp!) actually buy new fabric. I'm still undecided as to which style of skirt I'll make. I love them both.
I love the interesting seams on this Vogue skirt. I'll probably use it more than once.
There are also goals for other weight loss milestones.
170:
Butterick 5559
McCall's 5894 I've never made jeans before
Vogue 1109 fun with stripes!
160:
McCall's 6361
Simplicity 2058 just a simple trumpet skirt
McCall's 6513
150:
McCall's 6433
I really don't expect to get under 150. I feel like that is a lofty goal. But we'll see. These are pretty good motivation. I love the 150 lb. dress. I'm not sure exactly why; I just love it. Thirty-ish more pounds and it's mine!