It seems like I've spent so much time recently thinking outside the box and/or needing to do extensive alterations to patterns that it was really nice to just cut and sew a pattern. I've made this pattern three times now. The first time I modified it to be a maternity pattern and made it out of a Pepto Bismal pink knit. I call it my awesomely pink shirt and I love it. But it's a maternity shirt. I made the pattern again, but with different neck embellishment and lengthened to be a dress. That was made to be adjust able for either maternity or regular. Now, finally, I have this shirt in exactly the style I wanted and in a super comfy poly interlock. It's light and airy and perfect for summer.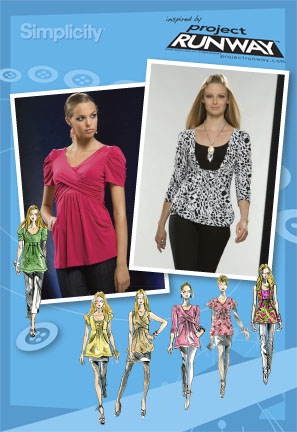 I made the picture on the live model on the left. The only changes I made were bringing the neckline up and in a bit and omitting the front pocket, but keeping its fullness. I totally love it. Because the shirt is purple it was destined to be my new love.
The sleeves turned out a little different that I thought but not bad. Extra room in the sleeves is rarely a bad thing for me. The shirt feels airy and wonderful. Now that I've made the pattern tree times I'm pretty comfortable with it. Love love LOVE this top!
Wanna know what looks freaky? Moving a little as The Hubs tries to take the picture. My face looks pretty bad.